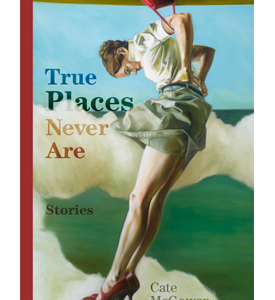 True Places Never Are by Cate McGowan Wins the 2014 Moon City Short Fiction Award
In her debut collection, Cate McGowan introduces us to an assortment of characters, a passenger manifest voyaging through loss and salvation. The book's title borrows from Moby Dick: "It is not down on any map; true places never are." McGowan's characters are indeed off the map; they venture into wondrous worlds as knotty and distressing as the places they aim to leave.
In prose highlighted by moving observations and vivid imagery, McGowan's characters represent an unusual hodgepodge of everyman—children, men, and women who inhabit different eras and countries, all sharing the need for deliverance. They populate the aftermath of tragedy. Deeply affecting and varied in tone, the nineteen stories in the collection are a colony of laundromats and the Louvre; of mule pulls and boxing rings; of Georgia red clay and cobblestones.
In this collection, true places are indeed hard to find, yet hope is every person's traveling companion. In True Places Never Are, McGowan reminds us that wherever you are in the world, redemption might not be far away.
Cate McGowan, a Georgia native, has published fiction in Glimmer Train, Snake Nation Review, The Louisville Review, The GSU Review, and Moon City Review, among other journals. She's lived in New York City, Upstate New York, Missouri, Scotland, and various other points on the map. She now lives in Central Florida and teaches writing at Valencia College.