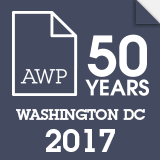 Visit The Moon City Press Table At AWP
If you are attending the AWP conference in Washington, D.C., this week, be sure to stop by the Moon City Press book fair table (125-T). While there, pick up a complementary copy of Moon City Review 2017 (while they last), which is hot off the presses. We will also be featuring a selection of the press' other titles, including its most recent release, Michelle Ross' There's So Much They Haven't Told You, winner of the 2016 Moon City Short Fiction Award. There will also be Moon City Press t-shirts for sale. At the very least, just stop in and say hello to our wonderful staff!
Additionally, the Moon City Press table will be hosting two signings:
Thursday, 2 – 3 pm, Sarah Freligh will be signing copies of her poetry collection Sad Math, winner of the 2014 Moon City Poetry Award
Friday, 11 am – 12 pm, Michelle Ross will be signing copies of There's So Much They Haven't Told You
We hope to see you there!