Amanda Marbais Wins The 2018 Moon City Short Fiction Award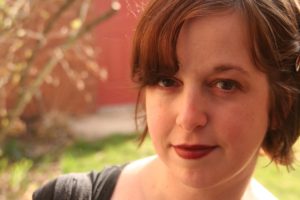 After a year-long process, the editors of Moon City Press are gloriously thrilled to announce the winner of their 2018 Moon City Short Fiction Award: Amanda Marbais of Chicago, Illinois, for her entry, Impossible Faults. After being a runner-up in last year's contest, she has won the top prize: publication with Moon City Press and $1,000. Impossible Faults will be published this coming spring and debut at the 2019 AWP Conference in Portland.
We'd also like to re-congratulate the other finalists, including three notable runners-up, which included the following writers:
Randall Brown of Wayne, Pennsylvania
Nicole Callihan of Brooklyn, New York (runner-up)
Sarah Freligh of Rochester, New York
Sarah Layden of Indianapolis, Indiana
Erica Plouffe Lazure of Exeter, New Hampshire (runner-up)
Harmony Neal of St. Paul, Minnesota
Pablo Piñero Stillmann of Mexico City, Mexico (runner-up)
Ann Ryles of Maraga, California
Rachel Swearingen of Chicago, Illinois
Aaron Weiss of Silver Spring, Maryland
Submissions for the 2019 Moon City Short Fiction Award are currently open. The deadline has been extended to November 1, 2018, which will be the final deadline. You can find more information or submit an entry by visiting https://mooncitypress.submittable.com/submit.
We thank everyone who entered this competition, everyone who has read our books, and all the authors working hard to make their art. We at MCP enjoy being part of the literary landscape and hope to continue in this role for many years to come!